21 août 2007
MOS BURGER's rice burger in Japan.

RICE BURGER KINPILA 145.5g 260kcal
Kinpila is one of the traditional japanese dishes. Stir-fried vegetable(gobo and carotte) with soy sauce.

RICE BURGER KAISEN-KAKIAGE 175g 350kcal
KAISEN-KAKIAGE is a kind of tempra with mixed seafood and vegetable.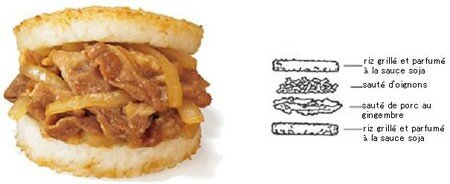 RICE BURGER BUTA-SHOGAYAKI 165g 420kcal
Ginger porc.
MOS BURGER was founded in 1972 in Japan.
TERIYAKI-BURGER was created by MOS in 1973.
09 août 2007
The dinner made by my friend in Tokyo.
Saba-no-shioyaki(grilled mackerel), Kintoki-mame-no-amani(sweet cooked red-beans) , Okara(soy pulpe)http://en.wikipedia.org/wiki/Okara_%28food%29, Hijiki-ni(cooked hijiki), Holenso-no-ohitashi(spinach salad), Omisoshilu(miso-soup with nameko, gambo and wakame), Mugi-gohan(boiled rice with barley).
Thank you my friend!
08 août 2007
I spent my vacation in Japan.

Here, this is my mum's cooking.
During my vacation, I had a lot of her cuisine and also fresh fish!
My father went to fishing and caught many fish.
Of cause I ate them as Sashimi! Fresh fish tastes sweet and very good!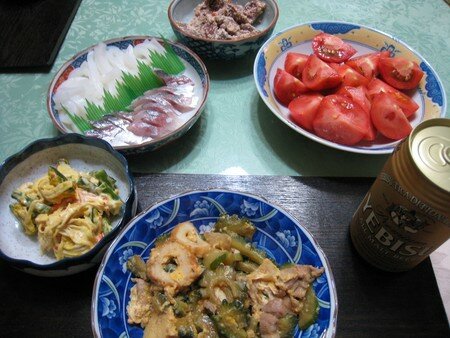 Goya-champulu, Surimi and pumpkin salad, Sashimi of ISAKI and squid, sauté of gizzards and MENTAIKO, home-made tomato salad....and EBIS beer!
RECIPE OF GOYA-CHAMPULU
Ingredients
1 bitter melon
200g of Tofu or Chikuwa
2 oeufs
200g of thinly sliced pork (cut into 3cm pieces)
1 tablespoon of sesami oil
salt and pepper
2 teaspoon of soy sause
2 teaspoon of sake
Cut a bitter melon in half lengthwise. Remove seeds with a teaspoon.
Slice the bitter melon thinly and squeeze to remove the water.
Put the bitter melon into a bowl of cold water and leave it for 1 hour.(Change the water sometimes)

If you use Tofu, wash it and remove the water, then wrap it with a paper towel.
Dry it in the frige for 1 hour. Cut it in pieces.
If you use Chikuwa, slise it.

drain the bitter melon. Heat the sesami oil in a frying pan.
Put the porc in the pan and saute it for 2 or 3 min.
Add the bitter melon and Tofu (or Chikuwa), saute for 5min.

Sprinkle salt and pepper. Add the sake and the soy sause.

Beat the eggs in a small bowl and add it into the pan. Mix very well.
Bitter melon is very rich in vitaminC. Goot for your skin....
19 février 2007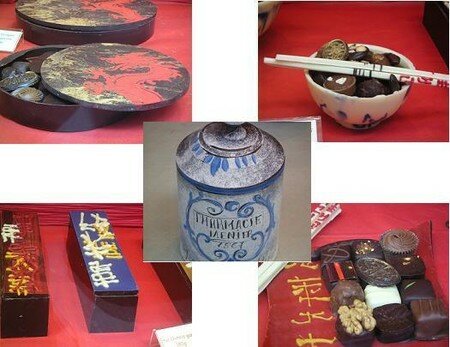 All of them are made with chocolate!
Joséphine Vannier
Handcrafted chocolate
4, rue du Pas de la Mule 75003 Paris
Tel 01 44 54 03 09
12 février 2007
Japaneses like DONBULI cooking very much.
DONBULI means " a bowl".
And also it means a kind of cooking which you put something on a bowl of rice.
You put various of ingredients on it, like Gyu-Don(with beef), Katsu-Don(with porc), Sukiyaki-Don(with Sukiyaki), Ten-Don(with Tempra)...
Here, I present you Oyako-Don. It is on of the traditional japanese dishes.
We call it OYAKO(parent and child) because you use chicken and egg together.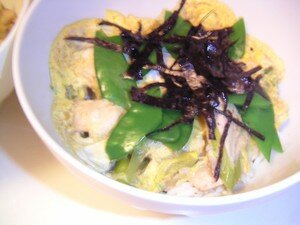 Oyako-Donbuli
for 2 serving
200g chicken thigh
2 eggs
1 leak
10 mangetouts cooked (boil them with a bit of solt for 5minutes)
cooked white rice(short grain)
nori

for sauce
3 tbs. of soy sauce
2 tbs. of milin
1 tbs. of suger
100cl of dashi-soup*

*Dashi is a kind of soup stocks used for prepare japanese cooking.
You can find dashi-powder in asian grocery stores. I recommend you Katsuo-dashi for this dish.


Cut chicken and vegetables into pieces like in the photo.
Mix all the ingredients of sauce.
In a deep pan, put some oil then stir fry chicken and leaks on strong heat.
Then add the sauce.
Cook it until the sauce become a half.


Take a half of (3.) into a small stir-fry pan on strong heat( you cook for each plate).
Beat an egg, then pour into the pan. Add a half of mangetouts.
Cover it and turn off the heat.


Put warm rice into a bowl(for 1 person). Then slide 4. on and cover the rice compeletely.
Put some nori on it.
31 janvier 2007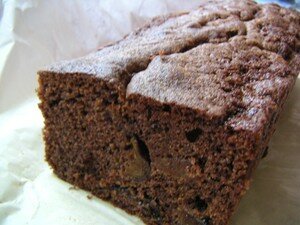 a slice of cake for adults.....
Prune cake
170g butter unsalted
150g broun suger
120g flour
50g cacao powder (Van Houten)
1 1/2 tea spoon of baking powder
3 eggs
15 dried prunes without stones
5 table spoons of cognac
Put prunes into a bowl and soak them with cognac for 1 day.

Preheat oven to 180°C.

Beat softend butter with suger, then add eggs one by one and mix well.

Cut prunes into 4.

Mix flour, cacao powder and baking powder, then sift them.

Add a half of 5. into 3. and mix lightly.

Add another half of 5. and prunes with cognac into 6., then mix lightly.

Place baking paper inside of cake tin, then pour mixture into it.

Bake it for 50-60 minutes.

Leave to cool.
30 janvier 2007
Tori-Tsukune - Chicken humburger Teriyaki sauce
for 2 serving

250g of chicken breast
1 onion (medium)
3cm of fresh ginger
1 egg (medium)
2 table spoons flour
1 dried red pepper
1/2 tea spoon solt
1 table spoon sake

Sauce
4 table spoons soy sauce
2 table spoons mirin
1 table spoon suger
1 table spoon sake
Grind chicken breast in a food processor.

Peel onion and ginger, then grind them in a food processor.

Put 1. and 2. into a bowl, then add egg and flour. Add solt and mix well with your hand.

Moisten your hands. Form them into 6 balls, then make them flat.

Heat vegetable oil in a pan over strong heat and put red pepper in.
Cook each side of steaks for 2 mn.
Add 1 table spoon of sake in the pan and cover it.
Lower the heat, then cook for 3 mn.

Mix all the ingredients of sauce, and add the sauce into the pan.

Boil it over strong heat for 4-5 mn.
This sauce of Tsukune goes very well with rice.
I recommend you to place the Tsukune on rice and put the sauce over them.

23 janvier 2007
There is a yakitori-ya ( yakitori-restaurant) in my home town.
It is called TORIKIN.
Every year, when I go back to Japan, I go to TORIKIN to eat Tori-sashi.
Here is Tori-sashi.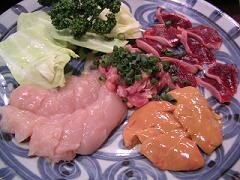 It is sashimi of raw chicken.
On the photo, there are breast fillets, gizzards and livers.
You eat them with soy sauce and grated garlic or ginger.
It have to be absolutely fresh, or you would have a risk of food poisoning.
That's why we never make it at home in general.
It is a famous gastronomic dish in south of japan.
Beef sashimi and Horse sashimi are also famous there.
All of them need very good quality and very fresh meat.
I also have Nankotsu-age(fried cartilage) and Tokikawa-senbei(cracker made with chicken skin).
They are very crunchy, and of cause it goes very good with a glass of beer or sake!
11 janvier 2007
Yesterday, I visited my mother in law.
She is moroccan origin.
She makes moroccan cooking and it's very good!
She cooked Tajine of mutton with carrots, potapoes and green peas for me.
Thanks Mom!
Here, some of other tajines which I ate in Marrakech.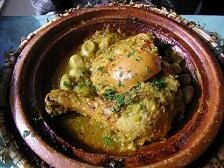 Tajine of chiken with lemon confit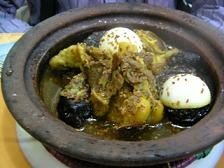 Tajine of lamb with prunes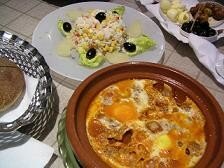 Tajine of kefta (meat balls) with eggs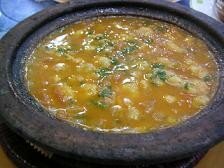 Tajine of shrimps Pil-Pil
10 janvier 2007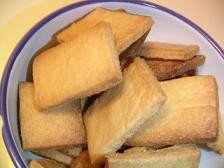 This is a recipe of butter biscuit which I often bake since I was a child.
It is crunchy biscuit.
I don't use a kitchen scale.
I use a measuring jug of Pyrex to measure flour and sugar.
And for butter, I buy a bloc of butter (125g) and cut into 5 pieces (25g each).
200g flour
100g butter, at room temperature
100g raw cane sugar
1 egg yolk
Milk
Beat the butter and sugar until it becomes creamy.
Add the egg yolk and mix well.
Add the flour and knead with hand.
Form it into a ball of dough. If the dough is too dry, add 1 or 2 table spoon of milk.
Wrap it in plastic food wrap and refrigerate for 1 hour.
Preheat the oven to 180 °C
Roll out the dough to about 5mm. Cut into small squares.
Place the biscuits on the baking trays covered with baking paper. Bake in the oven for around 15 minutes.