31 janvier 2007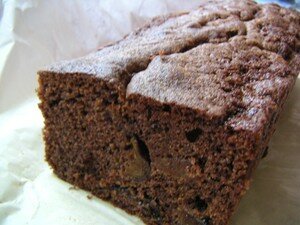 a slice of cake for adults.....
Prune cake
170g butter unsalted
150g broun suger
120g flour
50g cacao powder (Van Houten)
1 1/2 tea spoon of baking powder
3 eggs
15 dried prunes without stones
5 table spoons of cognac
Put prunes into a bowl and soak them with cognac for 1 day.

Preheat oven to 180°C.

Beat softend butter with suger, then add eggs one by one and mix well.

Cut prunes into 4.

Mix flour, cacao powder and baking powder, then sift them.

Add a half of 5. into 3. and mix lightly.

Add another half of 5. and prunes with cognac into 6., then mix lightly.

Place baking paper inside of cake tin, then pour mixture into it.

Bake it for 50-60 minutes.

Leave to cool.
Commentaires sur Prune cake for adults ?