12 février 2007
Japaneses like DONBULI cooking very much.
DONBULI means " a bowl".
And also it means a kind of cooking which you put something on a bowl of rice.
You put various of ingredients on it, like Gyu-Don(with beef), Katsu-Don(with porc), Sukiyaki-Don(with Sukiyaki), Ten-Don(with Tempra)...
Here, I present you Oyako-Don. It is on of the traditional japanese dishes.
We call it OYAKO(parent and child) because you use chicken and egg together.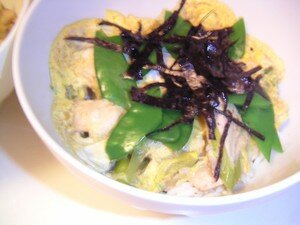 Oyako-Donbuli
for 2 serving
200g chicken thigh
2 eggs
1 leak
10 mangetouts cooked (boil them with a bit of solt for 5minutes)
cooked white rice(short grain)
nori

for sauce
3 tbs. of soy sauce
2 tbs. of milin
1 tbs. of suger
100cl of dashi-soup*

*Dashi is a kind of soup stocks used for prepare japanese cooking.
You can find dashi-powder in asian grocery stores. I recommend you Katsuo-dashi for this dish.


Cut chicken and vegetables into pieces like in the photo.
Mix all the ingredients of sauce.
In a deep pan, put some oil then stir fry chicken and leaks on strong heat.
Then add the sauce.
Cook it until the sauce become a half.


Take a half of (3.) into a small stir-fry pan on strong heat( you cook for each plate).
Beat an egg, then pour into the pan. Add a half of mangetouts.
Cover it and turn off the heat.


Put warm rice into a bowl(for 1 person). Then slide 4. on and cover the rice compeletely.
Put some nori on it.
Commentaires sur Oyako-Donbuli