08 août 2007
I spent my vacation in Japan.

Here, this is my mum's cooking.
During my vacation, I had a lot of her cuisine and also fresh fish!
My father went to fishing and caught many fish.
Of cause I ate them as Sashimi! Fresh fish tastes sweet and very good!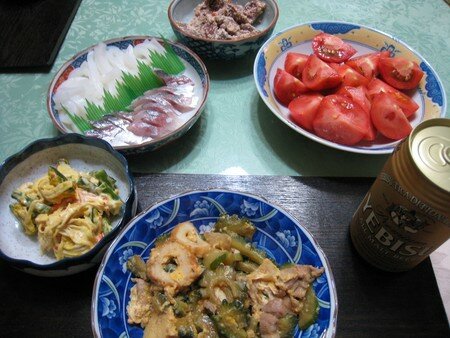 Goya-champulu, Surimi and pumpkin salad, Sashimi of ISAKI and squid, sauté of gizzards and MENTAIKO, home-made tomato salad....and EBIS beer!
RECIPE OF GOYA-CHAMPULU
Ingredients
1 bitter melon
200g of Tofu or Chikuwa
2 oeufs
200g of thinly sliced pork (cut into 3cm pieces)
1 tablespoon of sesami oil
salt and pepper
2 teaspoon of soy sause
2 teaspoon of sake
Cut a bitter melon in half lengthwise. Remove seeds with a teaspoon.
Slice the bitter melon thinly and squeeze to remove the water.
Put the bitter melon into a bowl of cold water and leave it for 1 hour.(Change the water sometimes)

If you use Tofu, wash it and remove the water, then wrap it with a paper towel.
Dry it in the frige for 1 hour. Cut it in pieces.
If you use Chikuwa, slise it.

drain the bitter melon. Heat the sesami oil in a frying pan.
Put the porc in the pan and saute it for 2 or 3 min.
Add the bitter melon and Tofu (or Chikuwa), saute for 5min.

Sprinkle salt and pepper. Add the sake and the soy sause.

Beat the eggs in a small bowl and add it into the pan. Mix very well.
Bitter melon is very rich in vitaminC. Goot for your skin....
Commentaires sur Okinawa-cuisine "GOYA-CHAMPULU"