10 janvier 2007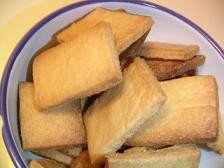 This is a recipe of butter biscuit which I often bake since I was a child.
It is crunchy biscuit.
I don't use a kitchen scale.
I use a measuring jug of Pyrex to measure flour and sugar.
And for butter, I buy a bloc of butter (125g) and cut into 5 pieces (25g each).
200g flour
100g butter, at room temperature
100g raw cane sugar
1 egg yolk
Milk
Beat the butter and sugar until it becomes creamy.
Add the egg yolk and mix well.
Add the flour and knead with hand.
Form it into a ball of dough. If the dough is too dry, add 1 or 2 table spoon of milk.
Wrap it in plastic food wrap and refrigerate for 1 hour.
Preheat the oven to 180 °C
Roll out the dough to about 5mm. Cut into small squares.
Place the biscuits on the baking trays covered with baking paper. Bake in the oven for around 15 minutes.
Commentaires sur Simple butter biscuits