23 janvier 2007
There is a yakitori-ya ( yakitori-restaurant) in my home town.
It is called TORIKIN.
Every year, when I go back to Japan, I go to TORIKIN to eat Tori-sashi.
Here is Tori-sashi.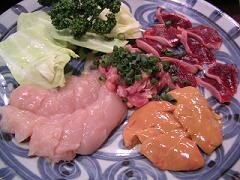 It is sashimi of raw chicken.
On the photo, there are breast fillets, gizzards and livers.
You eat them with soy sauce and grated garlic or ginger.
It have to be absolutely fresh, or you would have a risk of food poisoning.
That's why we never make it at home in general.
It is a famous gastronomic dish in south of japan.
Beef sashimi and Horse sashimi are also famous there.
All of them need very good quality and very fresh meat.
I also have Nankotsu-age(fried cartilage) and Tokikawa-senbei(cracker made with chicken skin).
They are very crunchy, and of cause it goes very good with a glass of beer or sake!
Commentaires sur Chicken Sashimi